As the weather in some parts of the country is warming up, a bubbly, refreshing NA beverage is riding the shirttails of Dry January. Hop Water is sliding into a go-to position for many beer enthusiasts. Hop water, which is essentially dry-hopped carbonated water, provides that crisp punch of Lupulin flavor we love in IPAs without the carbs and alcohol—making it suitable to drink anytime, anywhere.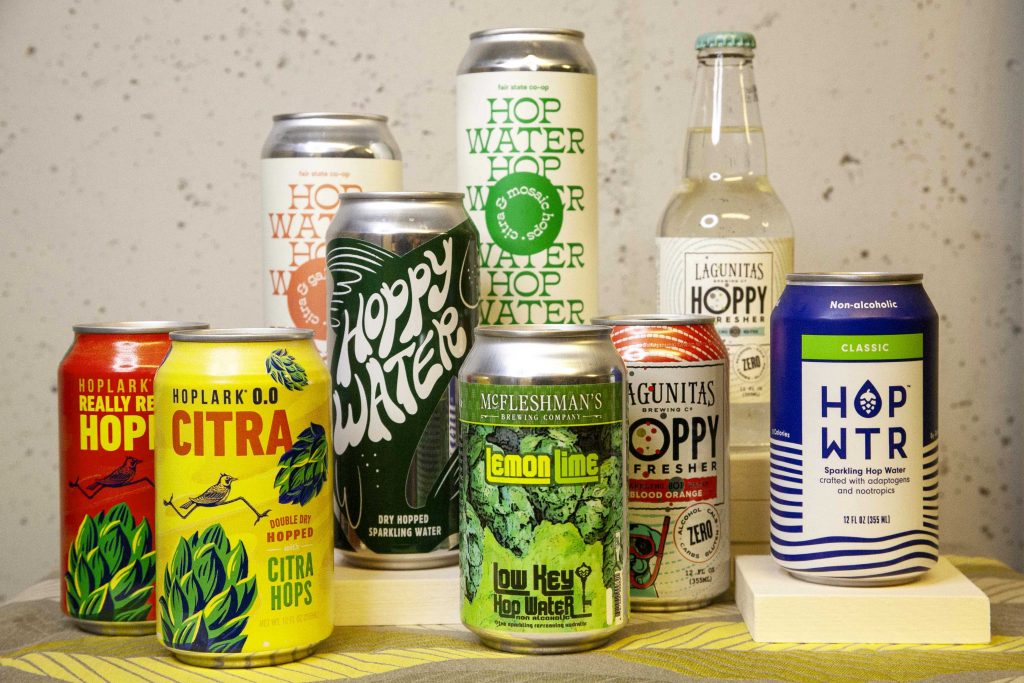 I first noticed hops being used in beverages other than beer on a Target run in fall of 2021. (Isn't it amazing that our phones keep track of so much data when we take pictures? What a time to be alive!) A sleek-looking can of Hoplark Sparkling Green Tea with Mosaic hops on an endcap in the grocery section caught my attention. Into the cart it went. I later cracked it open and was intrigued by the refreshing combination of bubbles, green tea and tropical fruity hops.
Hopping Onto the Scene
Hop water bubbled up again at Yakima Chief's Hops & Brew School last September. Fair State Co-op sent several cases of their new hop water in three different varieties—green (Citra and Mosaic), orange (Citra and Galaxy) and blue (Citra and Centennial) for attendees to sample.
Hops & Brew School features an open beer bar all. day. long. Oddly enough, not even beer industry professionals can drink hop-heavy IPAs all day and stay awake and alert during a two-day technical seminar on hops! Every time they cracked open a new case of Fair State's hop water, it disappeared almost immediately.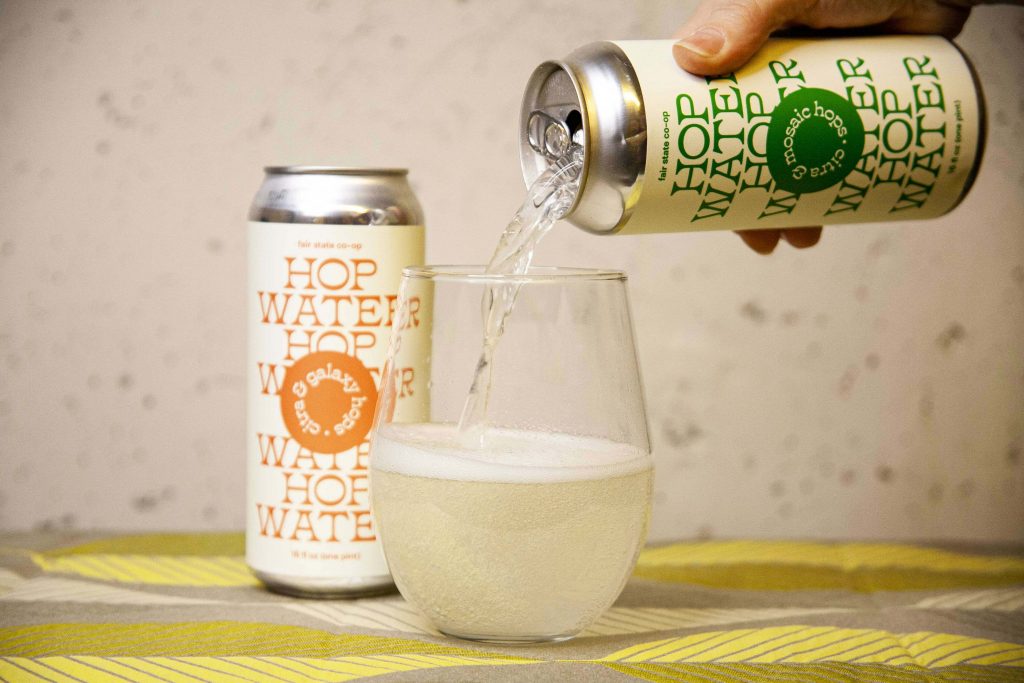 My favorite of the bunch is the green one. It tastes like a light, unsweetened version of lemon lime soda with just a touch of that hoppy bitterness to balance out the tart citrus flavor.
Yakima Chief Hop's pilot brewery also provided a hop water option on tap during the seminar, featuring their CryoPOP! blend. It poured bright green and was insanely hop-forward. Yakima Chief clearly loves their hops.
Lagunitas Hoppy Refresher—The OG
After realizing that Fair State's hop water wasn't available in my area yet, I embarked on a mission to find something similar. It didn't take long to stumble on Lagunitas Hoppy Refresher, which has actually been around since early 2019. Hoppy Refresher very recently got a branding overhaul, and Lagunitas has introduced two new flavors.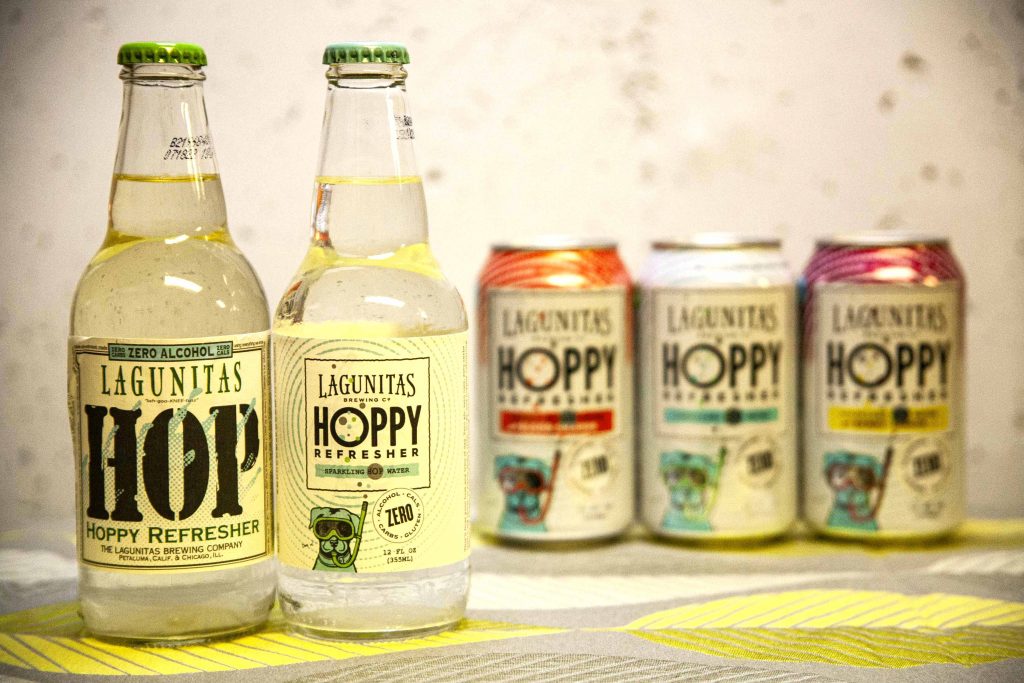 The first six pack of Hoppy Refresher I bought a few months ago contained slightly greenish-yellow liquid in clear bottles. It now comes in 12 ounce cans in addition to the clear bottles, and the beverage inside is also crystal clear. The taste, however, is just as crisp and refreshing, if not slightly less hoppy than it used to be. The new additional flavors that come in cans—berry lemon and blood orange—don't really taste like hops at all. They're delicious but more like extra-flavorful LaCroix than hop water.
The beer nerd in me does ponder, though. Hops are the reason that beer "skunks" when exposed to sunlight. Packaging beer in brown glass or cans prevents this from happening. Would not the same happen to hop water in a clear bottle? Perhaps an experiment is in order.
Hoplark: Innovation + Variety
Hoplark seems to continually innovate and experiment with different hop varieties and pairings with tea and other flavors. While most of their products are technically considered hop tea instead of hop water, they do have two distinct lines of products that don't contain tea at all (and are thus caffeine-free).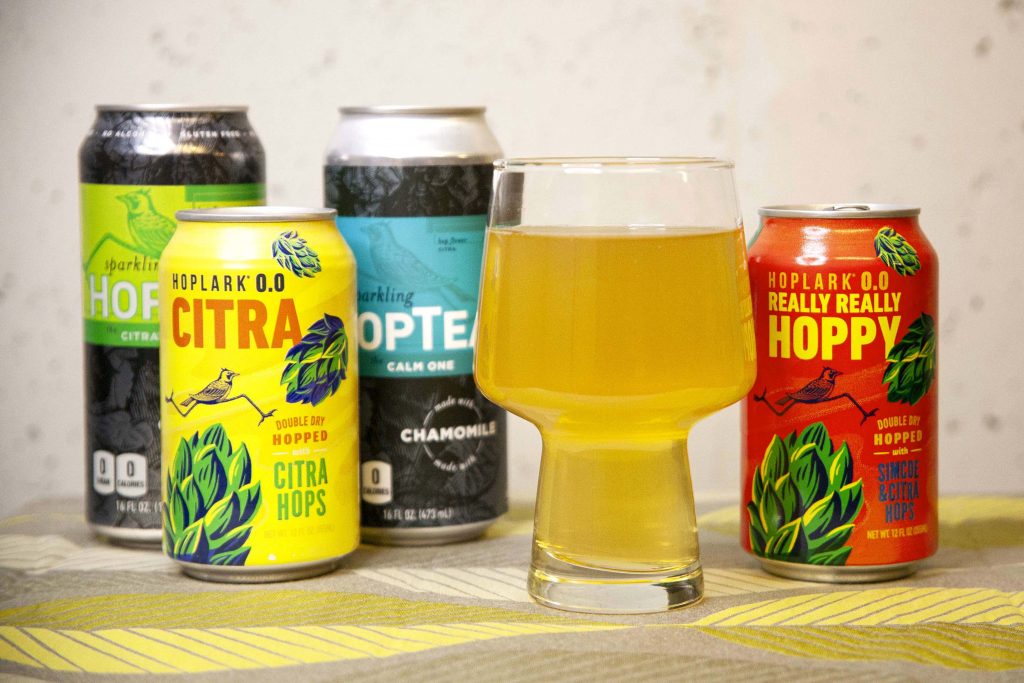 The first is the 0.0 collection, which is available in many grocery stores. This double dry-hopped sparkling water comes in two standard varieties—Citra (yellow can) and Really Really Hoppy (orange can), which features Citra and Simcoe hops. I find that sips of 0.0 Citra alternate between citrusy and bitter. They're definitely on the hoppier end of the spectrum in comparison to the rest of the hop waters on this list.
Hoplark Water appears to simply be carbonated hop-infused water. While I haven't found these in my area, they are available for order online. The Hoplark website also says that their entire product line is available at Whole Foods. They also offer a subscription service and a monthly tasting club.
Quietly Beneficial
I have to admit, I hadn't even heard of HOP WTR when I stumbled on it on a shelf in the natural and organic section of Festival Foods. The addition of adaptogens and nootropics intrigued me. The box also claims that hops are naturally calming, which I haven't heard before. More research in order? HOP WTR comes in several flavors, including original, peach, mango, lime and more.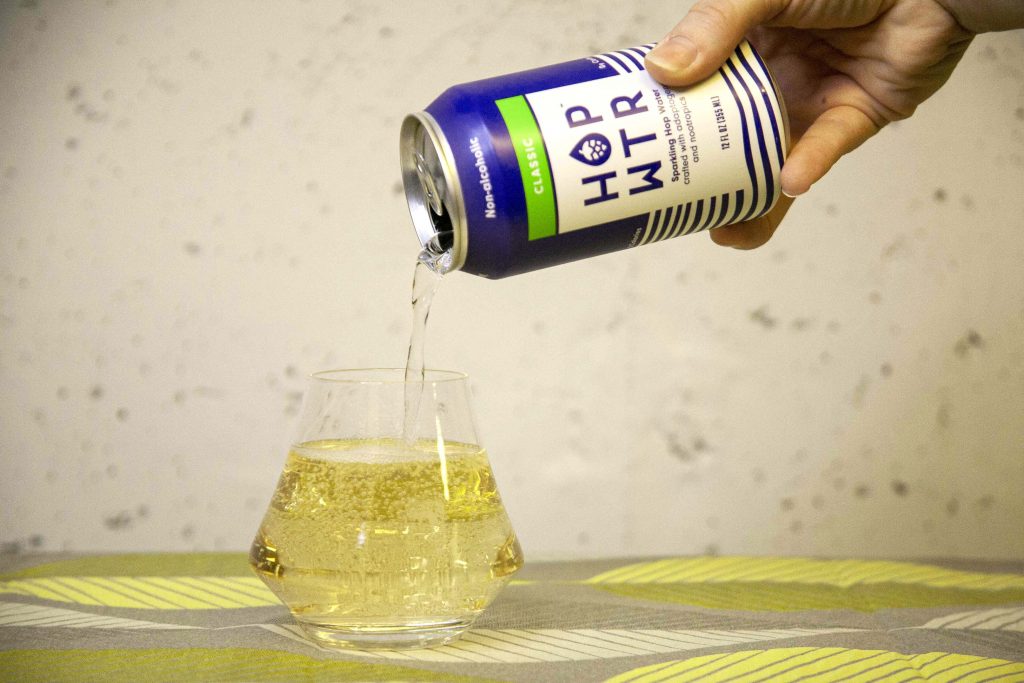 The adaptogens in HOP WTR come from ashwaganda, a supplemental herb often taken to reduce stress. Nootropics, molecules that are thought to improve brain function, are provided via L-Theanine. The original flavor of HOP WTR also includes a very fun blend of hops, including Citra, Amarillo, Mosaic and Azacca.
Local Breweries Catch the Craze
As late summer stretched into fall here in Wisconsin last year, I noticed a couple local breweries catching the hop water wave.
First was McFleschman's in Appleton. They put out two varieties of Low Key hop water in 12 ounce cans—blue and green. The green "lemon lime" variation was tasty and struck a nice balance between hop character and the additional citrus flavor, but it definitely had some residual bitterness to it. The blue version didn't have much of a description on the can. It didn't call out a specific hop used, but my husband said it was delicious. It must be true. I know I bought a six pack of each to save for this post… and all I could find was a single can. Unfortunately, there's no indication of when or if these will be in production again.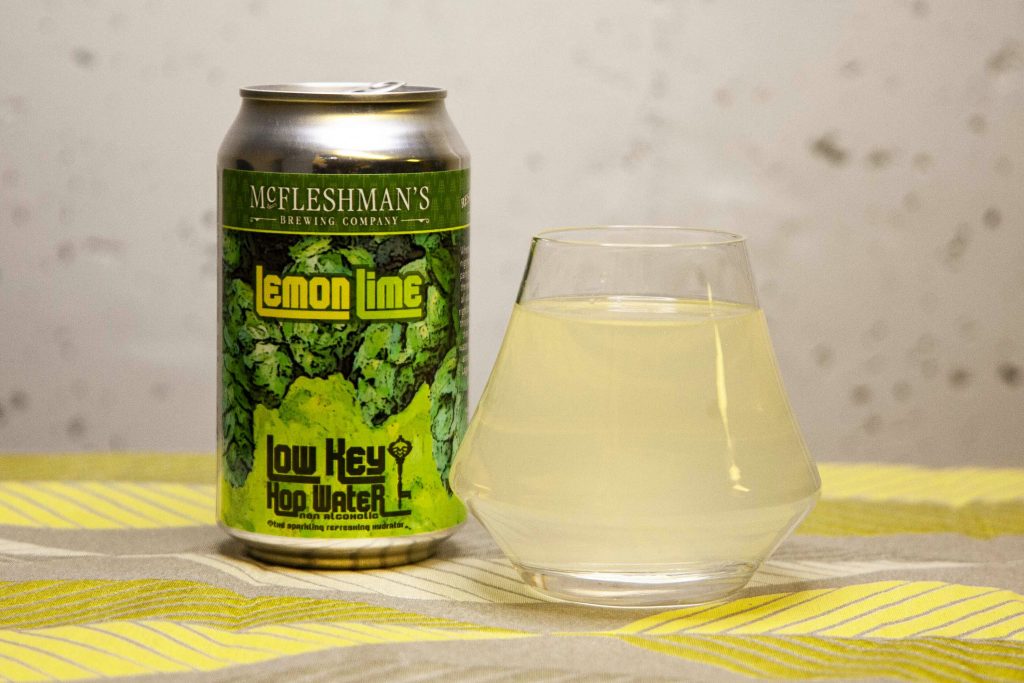 This winter, Badger State released a fresh and citrusy variation called Hoppy Water, and it was the first I'd seen that specified citric acid as an ingredient. Most recipes use a combination of phosphoric and lactic acid to achieve the proper pH for ideal Lupulin extraction from the hops. Using citric acid provides the necessary acidity while also giving the finished product a fun, lemony zing without adding additional flavoring.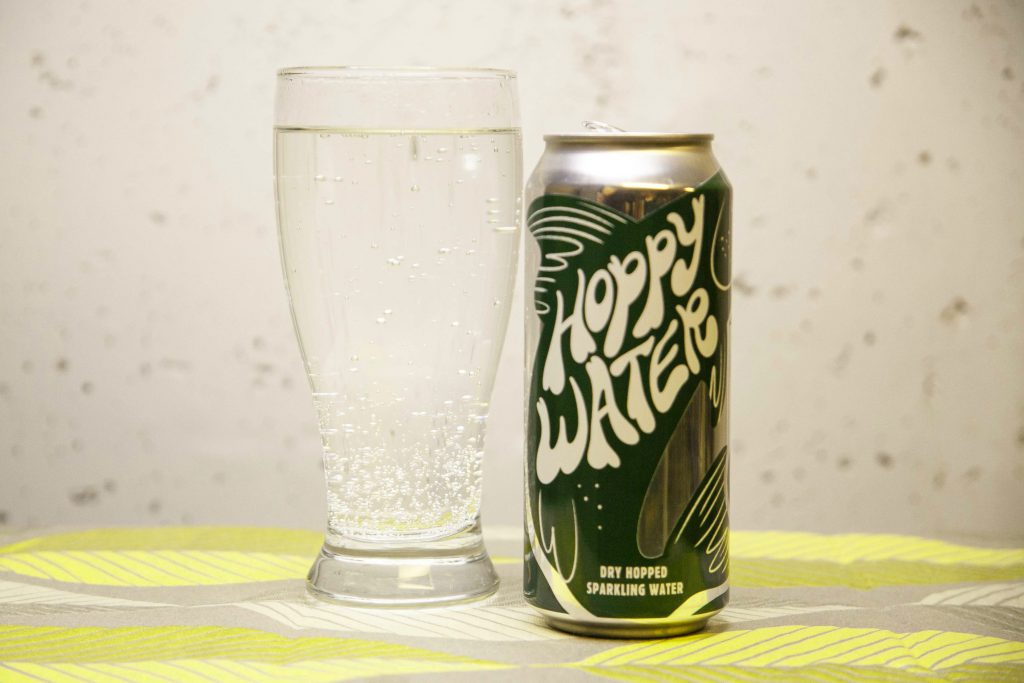 Most recently I saw that Third Space has Mosaic Lime hop water on tap in their Milwaukee taproom (nothing packaged yet, though). I snuck a little sample at their Pink Boots Society Collaboration Brew Day a couple weeks ago, and it was really tasty!
The Next Big Thing
As the temperatures continue to rise across the country, I bet that hop water is going to be the next seltzer; every brewery makes one because people drink it like crazy when it's hot out. And hop water has the added bonus of being sugar free, gluten free, carb free and 100% alcohol free.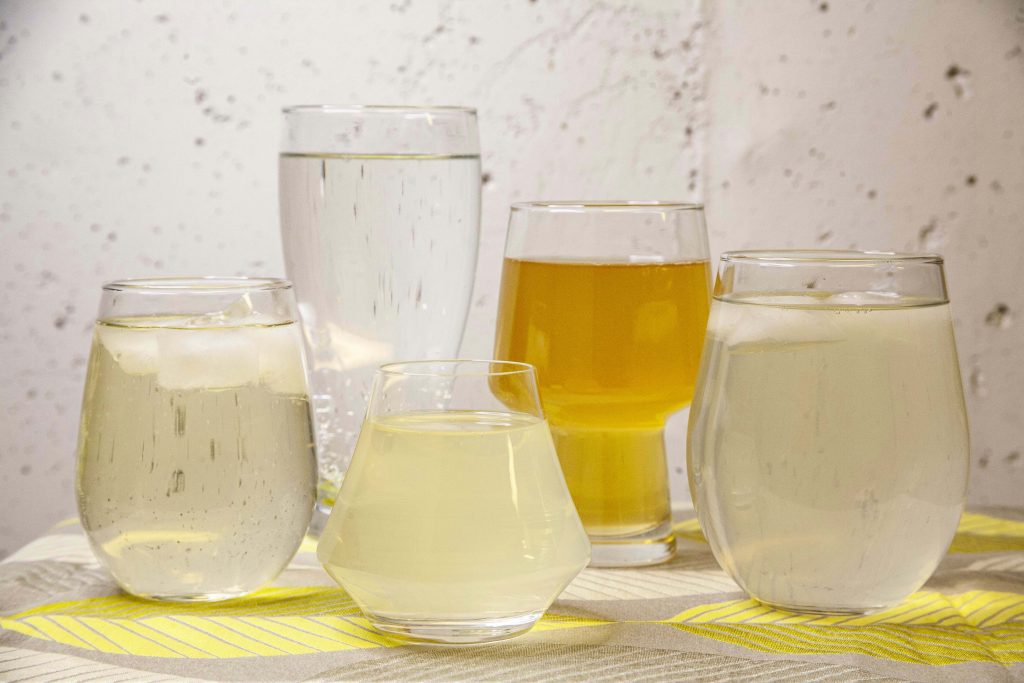 It's also just really dang delicious.
excerpts from porchdringking and Mash Master Lance